Find the gravel and stone you need to make your projects a reality!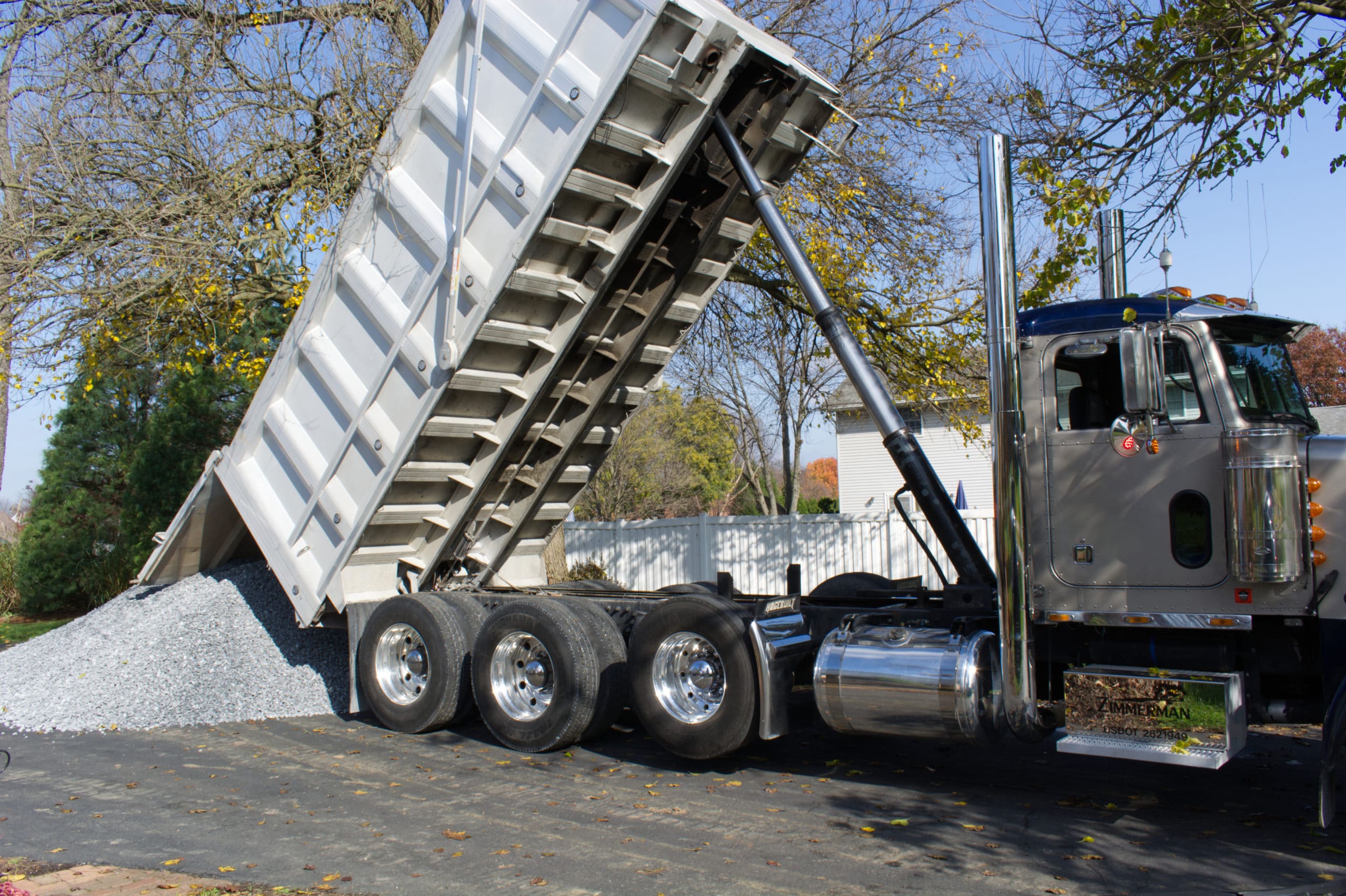 Andy, Donny, and the crew at Zimmerman Mulch and Landscaping are amazing! They have some of the best products in the area and are amazing at making sure the customer gets exactly what they need. We really appreciate them!
Selecting your sand and gravel products has never been easier
Choose

Select the perfect gravel or stone that you need to complete your project.
Purchase

Ask us about our delivery options or haul your own gravel and stone products.
Install

We'll recommend a contractor to you who can install your gravel and stone or you can do your own installation.
Enjoy

Enjoy your finished project!
Great Service & Products, Staff helps me on making a better choice on needs than what I thought, which saves money on the project.
Gravel and Sand in Fredericksburg, PA
Want to make a bold statement to your friends and neighbors? It may be time for you to upgrade your landscaping.
We'll help you take your outdoor hosting game to the next level. Everyone you know and care about will love coming to your backyard parties. Upgrade your landscaping today!
You deserve to have a beautiful outdoor space that doesn't require great amounts of maintenance. Our experts can help you achieve that goal. We can also provide you with contractor recommendations if you are looking for one.
Here at Zimmerman Mulch, we love working with each of our customers to help them achieve their goals. Our landscaping products and our network of contractors will provide you with the tools you need.
As a family-owned landscape and mulch supplier in Fredericksburg, PA, we are thrilled to serve and partner with you.
If you live in beautiful Fredericksburg, PA then you already are familiar with the nearby sites and attractions:
Blue Mountain Golf Course

Wolf Sanctuary of PA

Middle Cree Wildlife Management Area

Lebanon Community Theatre

Escape Room Level 6

Cornwall Iron Furnace

Mt. Gretna Lake & Beach
Fredericksburg is a small community that has not been incorporated. Located in Bethel Township in Lebanon County, PA the population was 1,357 people in 2010 within an area of 1.9 square miles. Fredericksburg is sandwiched between two major routes with Interstate 78 to the north and U.S. Route 22 to the south.
The water is drained away by the Deep Run and the Beach Run. Just out of town, they form into Elizabeth Run which is a part of the Susquehanna River watershed.
Wikipedia has this to say about Fredericksburg and its history:
"Fredericksburg was originally called "Stumptown" after a disreputable settler named Frederick Stump, who founded the town in 1755, and reportedly massacred an encampment of ten inebriated Indians one winter and sent their bodies down the Susquehanna. Fredericksburg was the birthplace of Clayton Mark, the prominent steel magnate, in 1858. Mark was the founder of the planned worker community of Marktown, Indiana." 
We service all of the Fredericksburg area with our mulch and landscape products, including 17026 and the other surrounding zip codes in the greater Lebanon County area.
This is what some of our customers have to say:
Mark: "Quick service everytime!!  No complaints!  6 stars!"
Zachary: "Wonderful.
I had issues with my vehicle after work and they gave me an extra hand. When that didn't pan out I was offered a ride up the road. May THE GOOD LORD Bless Them All."
David: "Great selection of landscaping products for the professional and the homeowner. Hardscaping, stone, mulch, rock, pavers, etc…"
A Happy Customer: "Excellent service, Very polite staffed, treat the customers fairly!"
Philip: "Opened up for me on a Saturday in the winter months. I've found my new wood pellet supplier! Great to know good business are still left in America."
Stan: "Knowledgeable staff,  hardscape products, mulch and other landscape supplies"
Elroy: "All your landscaping needs. If you have trees , shrubs, and bushes that you have cut down you can dumb them there free of charge at a specific location."
Mike: "Great People, Great Service, Great Product!"
Vern: "Wonderful mulch! Plenty of paver choices!"
G.D.: "Always a great place to visit. Thank you!"
Fredericksburg, PA

Mulch Products
Dirt & Compost Products
Hardscape Materials
Natural Stone & Flagstone
Wood Pellets
Ice Melt
We service and deliver most of our products to all of Lebanon County and parts of Lancaster, Berks, Schuylkill, and Dauphin Counties.
If you are unsure of what we offer in your area, please call us at 717-273-7568 or contact us online.
Not Sure Which Type Of Gravel Is Best For Your Project?
Discover the 7 types of gravel we sell and learn the proper use for each kind when you download and read our FREE infographic!